This page contains affiliate links, meaning I will receive a commission should you decide to buy anything through my links, at no additional cost to you. Learn more…
It's almost that time of the year again where everything with an "on-sale" tag is even bolder and redder than the year before. And, if you haven't jumped on this bandwagon called Black Friday and Cyber Week (or Cyber Monday) before, maybe it's time to make your business part of it, don't you think?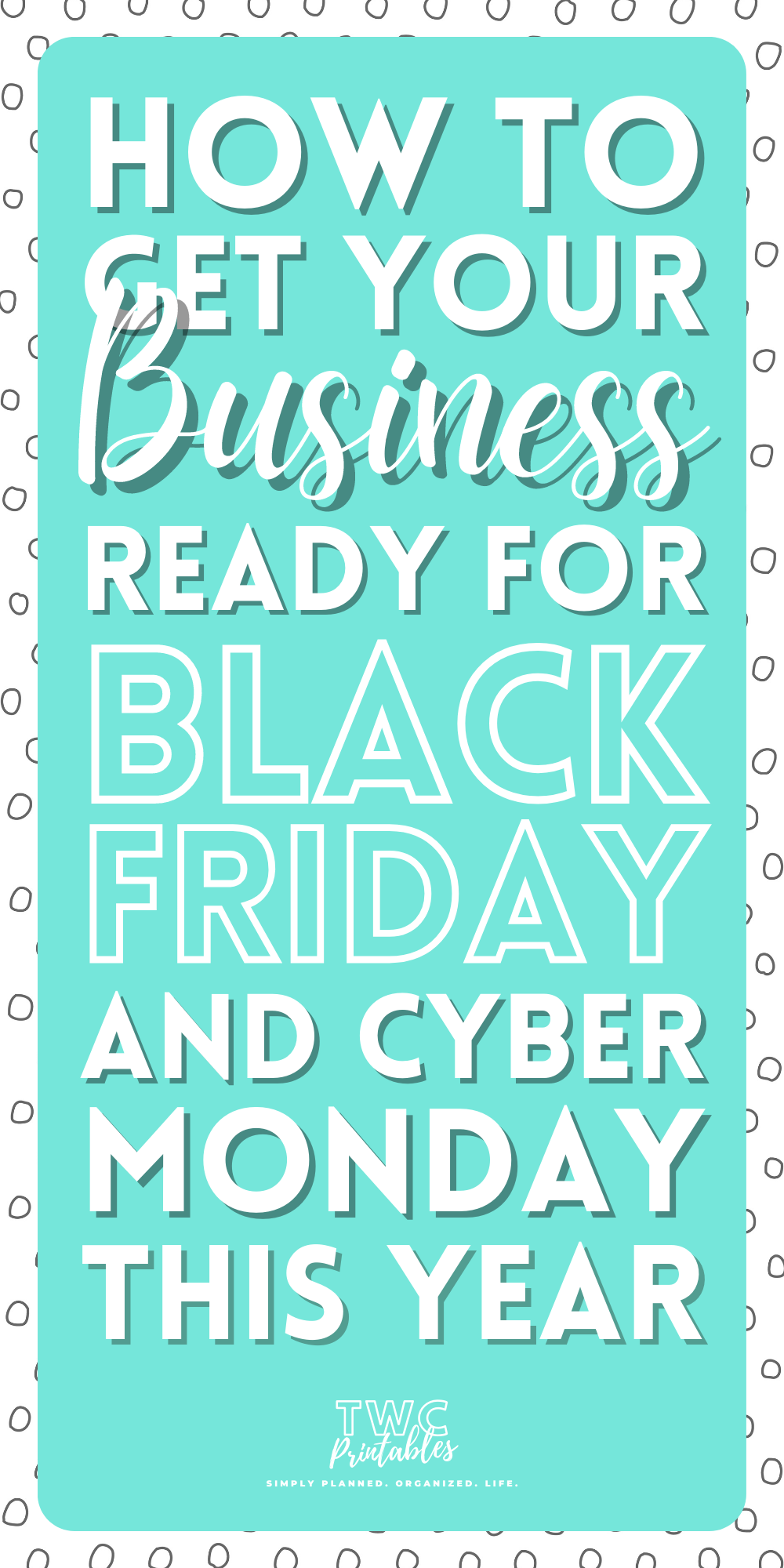 I know, it's scary. Having a small, or even medium-sized business that sells physical or handmade goods, or even digital products, runs the risk of "breaking even" during a sales event, or worse. 
But that's the thing! Expanding your business and taking part in these events does come with risk, but you'll never know how well it can actually perform if you don't try!
How to get your Business ready for Black Friday & Cyber Week
In a nutshell, to get your business ready, you'll need the following things in place:
Checklists. I work with checklists on an almost-daily basis in my business, and there's normally more than one checklist for a specific purpose.
Social media content. Your audience is online, and you need to make them aware of your sales events!
Campaign planning. Whether you're going to send out a series of timed emails to existing customers, or you're going to do social campaigns and ads, it all needs to be planned out.
Stock management. Think stock sheets where you can keep track of numbers, price points, etc. This is also helpful for knowing when to order more items or to plan out new products.
Sales strategies. Whether you're going to collaborate with other businesses, bundle your products together for a bigger discount, or offer a free gift with sales, you need to map out your sales strategies.
Obviously, these are not the only things you need to run your sales successfully, that is why I have created the fully editable Black Friday sales planner that is perfect to use for Black Friday, Cyber Week, and Small Business Saturday. This editable planner comes with a personal shopping planner for yourself, too, and is fully editable in the free version of Canva!
Tackle the ultimate sales event of the year head-on! Whether you're focusing on Black Friday, Cyber Monday/Week, or even Small Business Saturday for your personal shopping or your business campaigns, these planners will help.  
Getting your business ready for sales events
So, when I first started out with my Etsy shop, I sold printables. No Canva templates (those Canva features didn't even exist), and I spent hours upon hours designing my printables in Photoshop, InDesign, and MS Word…
And so, when the big sales events started coming up, I thought that it's in my best interest to take part…
So I didn't take part in any sales event for the next year or so… Partially out of fear that all my efforts will be a waste, and partially because I didn't want to take any major risks and lose money, or break even.
But then, Black Friday started to become this massive online event – way less aggressive viral videos of trolley-bashing women grabbing toys from children's arms while pulling someone else's hair…
You see, back when Black Friday started to become this massive sales event, it was mostly for physical goods in brick-and-mortar shops and mega retail outlets. And it still is, but the online community started to make these sales events go digital, and online shops started to skyrocket their profit margins drastically. 📈
I have started to take part in these sales events again, and wow! I started getting the results I wanted and my sales went up. (Note: It wasn't an easy click or two – I had to create brand collateral, social media content, and use some tips and tricks up my sleeve to make people aware of this sale. But Etsy still brought in 40% of my shop visits resulting in sales, which is a lot more than I anticipated)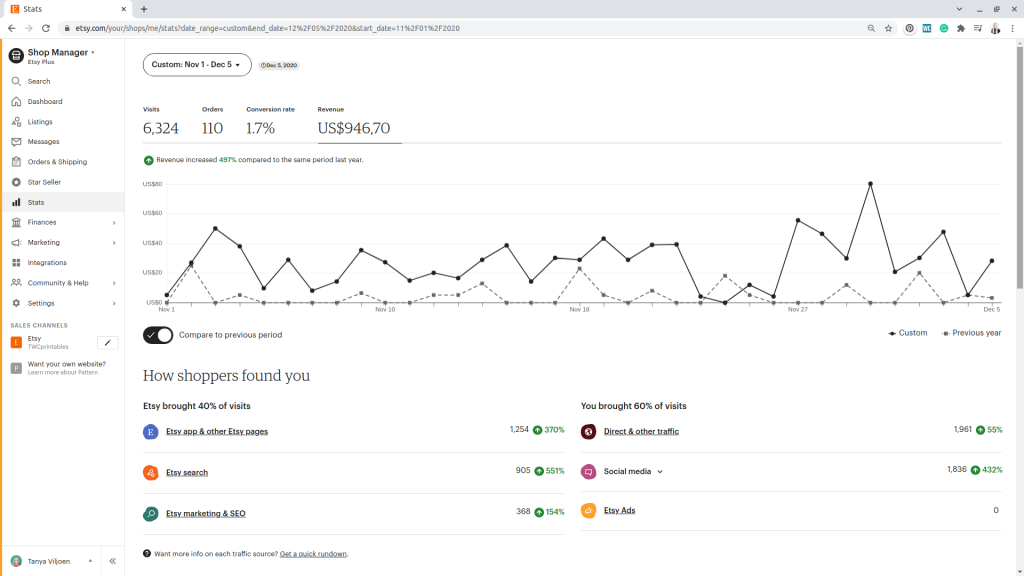 Now, to get your business ready for Black Friday and Cyber Week, you can use the following list as a guideline of what to include in your sales planner. The editable sales planner also has all of these sheets included, which means you can save time by using the designs already provided if you want to. A sales planner is the #1 tool I use to map out these major events:
1. Online Promotion Checklist
Having an online promo checklist will help you to keep track of what you need to post, on which platform, and to make sure that your social profiles are ready for your sales events.
The creative promo checklist I have added in the already-designed-for-you sales planner includes some unique ideas that you can use to promote your Black Friday or Cyber Week sales or any other sales for that matter.
If you decide to create your own list of creative promo ideas, think of ways that you can be different, such as using video ads on Facebook or donating a % of your sales revenue to a charity.
3. Blank Promo Ideas Sheet
If you're going to create your own list of promo ideas (see previous), make sure you add unique ways to promote your sales, as well as the usual – Facebook ads, Instagram reels, Pins – because if you keep trying to reinvent the wheel, you'll likely become demotivated or get burnout.
A pre-sale worksheet should help you to create customer awareness, scope what the competition is doing that works, brainstorm special offers, and build hype. With this worksheet I have included in the sales planner, you can ask the following questions:
How are you going to make customers aware of what you have to offer?
Which types of offers get customers commenting and sharing on social media?
What type of discount will you offer to grab their attention?
Which hype-building ideas can you implement to make customers aware of your upcoming sale?
5. Brick & Mortar Shop Readiness Checklist
A checklist like this would help you to make sure your brick-and-mortar shop is ready for the upcoming sales events. Grab a blank sheet and jot down all the things needed to be done before running your big sale. Will it be to make your storefront more welcoming? Will you need to update your payment systems? 
Tip: Again, you don't need to reinvent the wheel here. A lot of people still go to malls and physical stores for sales. Just make sure you've shared on social media that you're having a sale and check that your store is clean, fully-stocked and inviting on the big day.
Another Tip: A brick-and-mortar shop sale is perfect to get rid of old, unwanted stock, too. Make sure to place these items where customers will likely spot them – at the entrance, in the middle of your shop, and at the till.
6. Online Shop Readiness Checklist
An online shop readiness checklist is the same as the previous checklist, only it focuses on your online shop. Here you'll make sure that your followers are aware of the upcoming sale, that your online shop is mobile-friendly, and that your about and shipping info is correct, among other things.
Naturally, I just had to include this done-for-you checklist in the sales planner as an absolute must-have!
7. Seller Success Checklist
This one is totally optional, but I wanted to include it here as a seller success checklist is something you can use over and over again.
Typically you will make a checklist for the things, that you know will be successful, for both before and during the sales event.
Things like planning what you're going to post on social media, how your packing station will work during shipment, and making sure you check your email and social during a sales event in case of customer messages, are just some of the tasks you need to include in your seller success checklist.
Think of this as a sort of "sales playbook" for your business, but in a shorter, checklist form.
I have included a done-for-you checklist in the sales planner, but you can add your own items, too, according to what works for you.
An inventory sheet is super important in your sales planner. It will help you to keep track of stock you want to sell, see which stock you want to get rid of, and which items to order to fill up the stock again.
A comprehensive product planner will help you to plan out your next bestseller! Plan out your product name, the regular price versus the sale price, a good description that you can use in your online shop, packaging, etc.
You can also plan out the items needed to make the product and how you will promote the product.
A bundle offer sheet does what it says: you plan out a bundle of products! Make sure you jot down which items to include in the bundle and what sale price tag you will add to it.
Tip: Bundle offers sell like hotcakes during major sales events, so make sure you add these to your potential offers when brainstorming which products to sell!
Offering gifts and bonuses is another effective sales tactic. Make sure your bonus offer or free gift is worth the buyer incentive. 
When it comes to content, social media immediately springs to mind, but that is not the only type of content to focus on, and you should try to keep the two separate as they have different processes. Blog posts, YouTube videos and LinkedIn articles are all great examples of content.
Make sure to have a monthly and weekly schedule for your content leading up to the major sales events.
14. Social Media Schedules
The next batch of content will be those for social media. So, create a list of things you want to post on your social media and include monthly and weekly schedules here, too. Also, make sure to research the best times to post, or create a sheet for that as well. I have added sheets for all of these things to the sales planner. 
15. Promo Photo + Video Ideas
Having an ideas sheet for your promotional images and videos will prevent you from sitting in front of the screen, wondering what to create or post…
Make sure to create a list of relevant hashtags for your social media platforms. Doing this beforehand will also help you to save time when posting or scheduling things ahead of time.
Tip: Hashtags are not just for Instagram. You can add hashtags to Facebook, Twitter, TikTok, Pinterest, and even LinkedIn.
Email planning is an essential part of any promotional campaign if you have a list (if you don't have a list, you should definitely start building one!) Here are some ideas of what sheets to have on hand, but of course, these are added to the sales planner as well:
Draft Sheet – I find it easier to quickly type out my emails if I have brainstormed them on a blank sheet
Email Planner – a full email planner sheet will include what to put in the subject line, which main points to mention, which links to add, and so on.
Campaign List – Create a list of all the emails you want to send out prior to and during your big sales event
Email Sequence Planner – if you're using an email platform such as ConvertKit or MailerLite that can do automation, having an email sequence planner will help you to map out all your email funnels
People are forgetful, so having this nifty sheet around will help you to keep track of all the minders to send out via social media and email.
I don't know about you, but juggling 20 different coupons through the lifetime of your online shop is quite hard – especially if you quickly want to send one out to a customer or social media blast. Having a coupon tracker sheet should help you keep track of the code, discount, condition, and duration – this sheet has already been designed for you and is available in the sales planner…
Make sure to have daily schedules for the the major sales events, to that you can keep track of it all…
21. Assistant Hiring Sheet
Thinking of hiring an assistant to help during your major sales events? With a sheet like this you should be able to jot down their contact details, as well as which skills/experience they have, which role they will play, and why they will be a good fit.
A help list will keep track of everyone who offered to help you during or after the sale. Include the date they will help out on, which tasks, and their payment/reward.
Tip: Your 'help list' should only include names of people who are reliable and who offered to help or agreed when you asked. Also, most people will expect some form of reward or payment – if you can't pay them, maybe offer some products or stick them for lunch aftward.
Having a supplier list on hand is important, especially if you have more than one supplier for your products.
The competitor's sheet can be a valuable tool to use in your business, not because you need to copy what your competitor is doing (please don't), but to be inspired with new ideas that you can apply in your business strategies that will set you apart.
For example, the competitor's sheet I have added in the sales planner includes space for details, what their top-selling products are, and which of their social media posts are popular or have high engagement.
This info can be used to INSPIRE your own products and social media, and even to become more innovative.
For my own sales planner, I have added two types of research sheets – which are totally optional if you don't want to add these – the first one is a trend research sheet and the other is a more in-depth research sheet (see next #26).
The trend research sheet basically focuses on the following things:
popular styles/colors this year
popular trends in your market this year
new trends to create products for
additional notes or ideas
This in-depth research sheet focuses more on your audience, buyer personas, keywords that are searched by your potential customer, and so on.
This sheet is golden for all-year-round product sales, and not just for major sales events.
Keep this worksheet simple, and make sure the goals you set actually achievable.
Also, always reflect on your goals afterwards to determine how you can do things differently next time around.
Tip: Though it might be somewhat of a cliche to you at this point, never underestimate the method of SMARTER when setting and achieving goals.
Is the goal you've set Specific, Measurable, Achievable, Relevant, and Timely? And afterwards, will you Evaluate and Re-adjust your goals?
Shipping methods change all the time. Courier companies and postal services may change their weight and prices seasonally, so make sure you have your chosen shipping methods on hand when running a sale. 
Collabs work really well if you collaborate with someone in the same industry with followers that can become your potential customers also.
With this sheet, you can keep track of names, email addresses, and what you have to offer in exchange for their offers.
This nifty little sheet is perfect for your online shop, especially if you have temporary help and they need to correspond with customers also. I have also found the sheet to be useful when you're responding to customers via social media and want to sound professional and to the point.
To create this sheet, jot down potential questions you think people might ask, with the answer as you would give it word-for-word – keep your answers to the point and professional.
Tackle the ultimate sales event of the year head-on! Whether you're focusing on Black Friday, Cyber Monday/Week, or even Small Business Saturday for your personal shopping or your business campaigns, these planners will help.  
YOur shop policies are more "legal talk" of your business and refer to product returns, refunds, damages, processing times, etc.
This is the kind of info your customers look at when they want to order something from you.
Also, make sure you include a privacy policy on your website – you can Google what it's all about and how you need to implement it.
A "crash plan" is the plan B of your sales event. If you have a physical store, how will you handle things like power outages and payment systems not working?
When it comes to having an online shop, think about your plan B's in terms of online payment, social media being down (Yes, Facebook, Instagram, and WhatsApp were all down on 4 October, 2021)…
I have added a preset list of questions for a crash plan in the sales planner.
Most online shop tools will let you export your final sales in either a PDF or CSV format (which you can open in Google Sheets), however, if you're a pen-and-paper-person like I am 😊 you'll likely also enjoy having a product sales sheet where you can write down all your sales!
Speaking of being motivated by sales sheets, another gem I like to keep around is the "Why I love my business" sheet, where I list all of the reasons.
You can also have a list of reasons for "why I've started this business in the first place"…
35. Post-sale reflection sheets
I like to have a reflection sheet for all my major sales events because I want to keep track of what worked, what didn't (and why), and what I can implement next year.
A plain daily planner sheet will keep you clear and focused for the upcoming sales event. Besides, you should take it one day at a time and only focus on the important things you can do that day to help your sales event be a success.
Weekly planners, as well as weekly checklists, are extra additions to the sales planner and will keep you on track for your sales events.
38. 2 Month + 3 Month Calendars
I have specifically designed and added these to my sales planner, because I want to get a view of the upcoming months and which important dates I need to keep track of.
A regular, monthly calendar is one of the best tools you can use to prep your business for sales events, goals, and due dates.
Tackle the ultimate sales event of the year head-on! Whether you're focusing on Black Friday, Cyber Monday/Week, or even Small Business Saturday for your personal shopping or your business campaigns, these planners will help.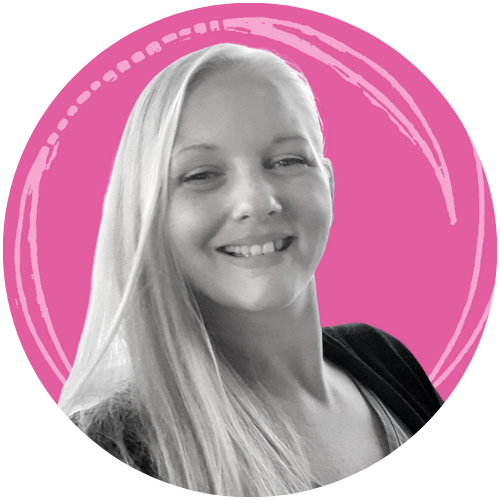 Tanya is a content creator, graphic designer, blogger, and online shop owner. When she's not designing Canva templates, running her 3 blogs, or hanging out on socials, you'll find her painting, writing, or spending time outside while drinking coffee. ☕